The Department of Justice's Mediation Conference 2022 was successfully held on 6 May 2022. The Mediation Conference was attended by more than 1,200 online participants from 19 jurisdictions around the world.
Our Mr. Basil Hwang spoke at Panel Session 3, "Metaverse: Happily Ever After or a Dangerous Start?", where he shared his views and insights on the features and risks of cryptocurrencies, the crypto market, crypto crime, Hong Kong crypto regulation, examples of key regulatory/enforcement actions in Hong Kong, Singapore and the US, and our firm's experience in handling contentious and non-contentious crypto cases. Basil and other distinguished speakers also discussed various interesting legal and practical issues surrounding cryptocurrencies and non-fungible tokens.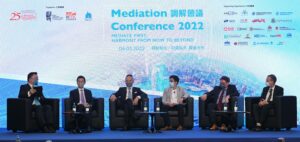 (Photo credits: The HKSAR Government) 
To read the HKSAR Government's press release containing further details of the Mediation Conference, please visit this page.
Our lawyers have advised on the regulation of cryptocurrencies since 2014. To find out more about our practice, please feel free to contact us today.